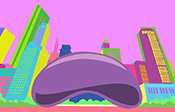 MAMCOAANA 2019, our 35th Annual Convention, is in Chicago, Illinois!
Once you are registered, please use this link to book a discounted hotel room. Rooms start at $189 + tax; when choosing number of guests only count adults staying in the room. Children under 18 stay free.
Call for Abstracts
MAMC Alumni/students are invited to submit scientific abstract for poster presentation
Categories: Scientific paper, educational exhibit and case report.
Recognition award for the best paper
Submit your abstract proposal to Dr. Bharti Khurana MD, Scientific Program Chair (bkhurana@bwh.harvard.edu) by June 25th 2019.