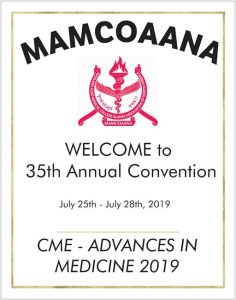 Dear Friends,
Registration for the 35th Annual MAMCOAANA Convention 2019 is now open. It is turning out to be a family oriented get together with lots of activities and learning  – CME (8 credits) – Advances in Medicine 2019.
MAMC Alumni are putting their time and effort towards making this an insightful and innovative CME. In addition we have faculty from LHMC Alumni. I am thankful to all the CME speakers for their commitment to MAMCOAANA.
Life members get discounted rates. Life membership is available at 50% discount until end of the year.
Feel free to email me if there are any questions.
Warmest Regards,
Sunil Malkani, Email- sunilmalkani@msn.com